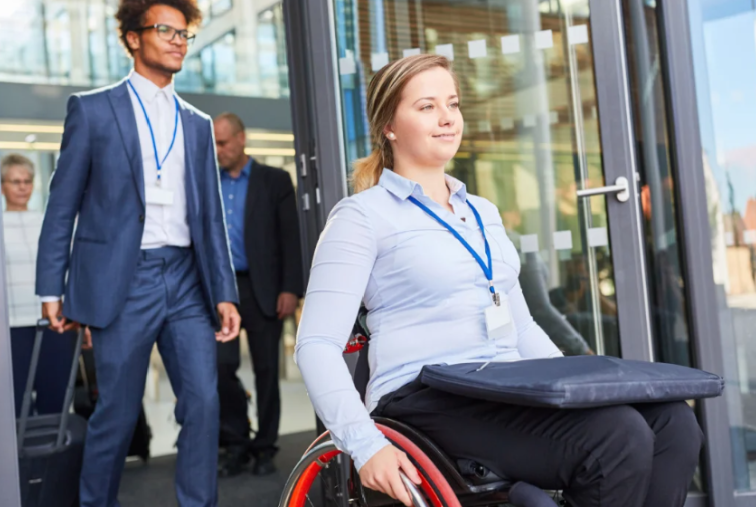 As a business leader struggling with an uncertain economy and tight labor market, you already know that running a business is not as simple as producing products or providing services. There are numerous laws and government regulations companies must adhere to; the Americans with Disabilities Act (ADA) and Americans with Disabilities Amendments Act (ADAAA) are two of those laws.
The ADA/ADAAA are acts of Congress that give certain civil rights protections to individuals with disabilities. These laws guarantee that Americans with a disability shall receive equal opportunity in regard to transportation, telecommunications, employment, public accommodations, and state and local government services. For the purposes of this blog, we'll refer to both acts as the ADA.
According to the U.S. Department of Justice, more than 50 million Americans have disabilities, and should someone with a disability apply to work at your company, and/or get hired, there are a few things that you should know so that you can remain compliant and provide a positive application and onboarding experience.   
How can you ensure your business is compliant with the most recent ADA standards? Ask yourself these three questions:
1. How many employees do I have?
If you have more than 15 employees, you are required by law to comply with the ADA, so keep reading. If not, cross this one off your list—you're presently exempt from this law. 
2. Have any applicants or employees indicated they have a disability?
If an applicant notifies you of a disability, you must give them the same consideration during the hiring process as you would any other applicant. If the applicant can fulfill the duties of the job, with reasonable accommodation, the law prevents you from discriminating against them due to their disability.
For example, if an applicant uses a wheelchair and is applying for a receptionist position and has demonstrated that he/she is qualified and capable of completing the duties of the job, he/she should be considered for the position.
Likewise, if an applicant with a disability applies for a position that requires them to stand for long periods of time or operate heavy machinery and there is no reasonable accommodation that will allow them to perform those duties, you would be within your rights to disqualify the applicant from consideration for the job.    
3. Have I made "reasonable accommodations" for employees with disabilities?
The law requires employers to make reasonable adjustments to an employee's work environment to allow a qualified employee with a disability to perform their necessary job duties. This includes things such as:
Facility modifications
Adjustments to work schedules and hours
Specialized equipment, and more
For example, if an employee is blind and needs adaptive equipment installed on his/her computer to ensure he/she can perform the job like their peers, you will probably be required to make this reasonable accommodation.
The Equal Employment Opportunity Commission (EEOC) also requires employers to provide disabled employees access to the same benefits and privileges as their non-disabled counterparts. This includes training, on-site cafeterias, break rooms, and employer-sponsored social functions.
Additional Resources for Employers
There are a number of resources available to businesses of all sizes through the Job Accommodation Network (JAN). There you can find creative ways to implement accommodations in your business, hear success stories from a diverse number of employers from across the U.S., and dive deeper into the requirements imposed on businesses by the ADA and best practices to comply with the same. 
Preserving ADA compliance for your business can be challenging, if not impossible, especially if you don't have the required information or a human resources representative on-site to help. Business owners who are just starting or do not have as much insight into the best practices to ensure compliance face even more difficulty. 
Partnering with a trusted PEO can help ensure your business is always up to date with current employment laws.
What Is a PEO?
A Professional Employer Organization (PEO) is a company that specializes in the management of administrative and human resource functions for businesses. Think of it as outsourced human resources. When you work with a PEO, you will continue to oversee the day-to-day management of your employees, and the PEO will assist you with time-consuming HR tasks such as payroll, benefits administration, workers' compensation, and compliance.
It takes a lot of time and effort to stay up to date on the latest employment laws and make sure your business toes the legal line to avoid costly fines. If these tasks are taking up too much of your day, partnering with SWBC PEO may be the right fit for your business.
We work as a trusted partner and have the resources and expertise to assist you in complying with the numerous laws that affect the workplace, including the ADA/ADAAA.