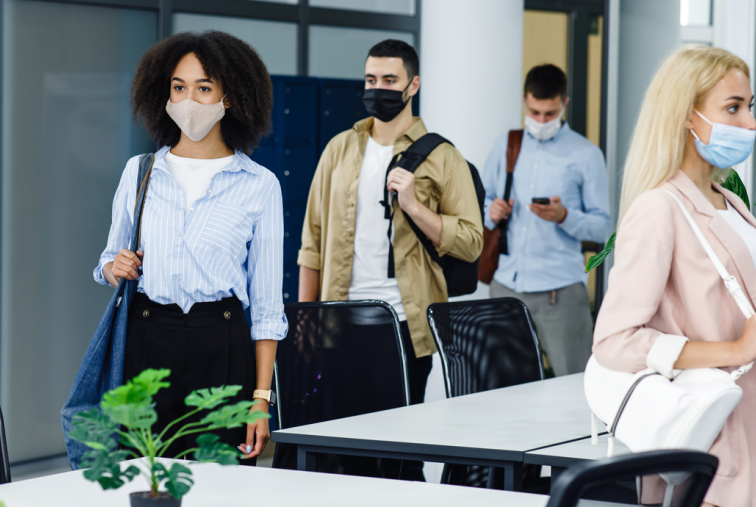 COVID-19 One Year Later
For over a year, the world has adjusted to social distancing. With the administration of vaccines well underway, the transition of returning to the workplace is the natural next step. At this critical juncture, and as we begin to transition to this new normal, more and more business leaders are assembling teams and task forces to create a safe workplace environment. However, even though over 50% of the U.S. population has received the full COVID-19 vaccine and 70% has received at least one dose, the fear of returning to work and potentially being exposed continues to concern both employers and employees.
Handling Return-to-Work Anxiety
After a year of working from home, there may be some expected anxiety, uncertainty, and feeling of hesitancy from your employees when it's time to return to the workplace. Even with the nation more than 50% vaccinated, we still have not reached the point of herd immunity to disrupt the viral transmission, and there is still talk in the news about emerging variants which adds to the anxiety.
Anxiety is a fear of the unknown, and for over a year, COVID-19 has shown us there was safety and comfort in our own homes, but that is augmented reality. The "new normal" will look a little different at first, and while we transition to the workplace, it helps to plan ahead to gain some control of this uncertainty.
Continued Prevention in the Workplace
With a year of research under our belts, there is a lot more data pertaining to how the coronavirus spreads and what you can do to limit transmission. The risk of exposure to COVID-19 is dependent on several factors, and employers should continue to follow these recommendations as you bring your employees back into the workplace to prevent exposure:
Employers should continue to require employees to maintain a safe distance with reminders posted throughout workspaces and reorganize and redesign your office workspaces to increase space between employee workstations.
Review appropriate face-covering practices with employees and post reminders of mask usage throughout workspaces.
Implement staggered reporting to each shift to limit staff in work areas and reduce staffing per shift.
Continue to use virtual meetings even in the office to limit in-person interactions.
A year later, there are still unknowns about how our country and workforce will move forward in the aftermath of the pandemic. You should continue to consult with your legal counsel and stay up-to-date on guidance from federal agencies such as the Equal Employment Opportunity Commission, Occupational Safety and Health Administration, and Centers for Disease Control and Prevention, as well as local officials, as guidance is changing rapidly.
Understanding and maintaining knowledge on regulations and laws related to the pandemic is laborious, and some companies may not know what resources are available or what they should do next. Our PEO team is here to help you navigate the waters through tremulous times like these. 
This material is provided for information only. It is not intended as legal or tax advice. You should consult your legal counsel or tax advisor for advice specific to your business situation.