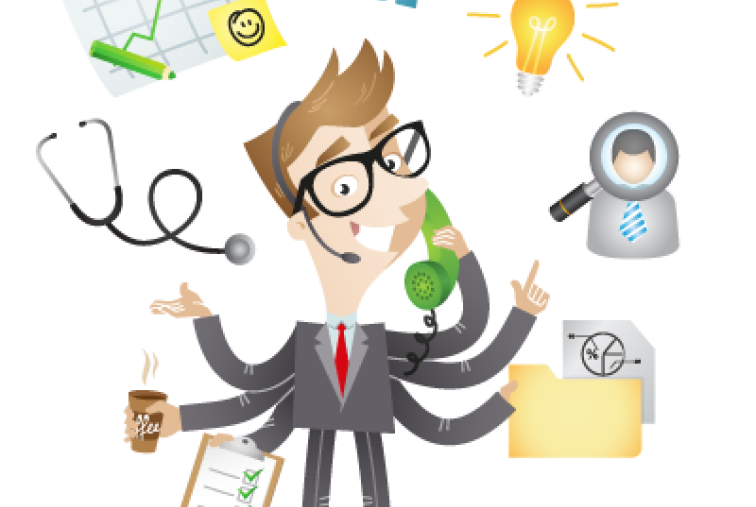 The gamut of challenges small to mid-size companies face depends on the type of industry, product, or service offered. However, more often than not, everyone's common goals are similar when strategizing for the upcoming year: improve revenue and reduce expenses in order to find the best return on investment.
Are you ready to power your growth and run your business similar to corporate counterparts while saving thousands of dollars? It's the perfect time to think about outsourcing employment management responsibilities. 
Here are six areas of opportunity that you are probably currently taking on internally, that you may consider outsourcing to potentially save your company thousands of dollars:
1. Human Resources
One of the many goals set for next year is to improve company recruitment efforts.  Remember, along with this objective comes additional considerations; such as, onboarding, I-9 compliance, and employee handbook creation. Turnover of employees is expensive, so onboarding new hires is quite important to ensure the transition occurs as smooth as possible. During this time, new employees learn the company core values, attitudes, performance and social aspects of the job.
Accurate and valid documentation is both a vital and time-consuming part of the onboarding process. All employers in the U.S. are required to complete From I-9 for each new hire on the company payroll. The form is used to verify the identity and employment eligibility of a person to work in the U.S.
The forms must be available for inspection by the Department of Homeland Security, Department of Labor, or Justice Department. It is important to note that non-compliance, whether intentional or by oversight, has severe consequences. The federally mandated fines are dependent on area of non-compliance, and range from $100 to $3,000 per employee and/or imprisonment. Unfortunately, many employers unknowingly accept I-9 forms with fraudulent supporting documents and do not find out about the problems this may expose them to until they are audited.
Another often underestimated time consumer is the creation of employee communications, such as an employee handbook. An employee handbook is significant whether a company is large or small. According to SBA.gov, these handbooks are important because it serves as a communication tool for new hires. The content typically includes verbiage on company core values, expectations of performance, standards of conduct, anti-discrimination policies, compensation, and reporting absences. 
2. Payroll Processing
The plan for next year may be to hire more employees to meet the demands of your growing business. Along with company growth comes the risk of payroll fraud. The Association of Certified Fraud Examiners states that small businesses are particularly vulnerable to fraud. Two common examples of payroll fraud include: timecard falsification—where an employee falsely reports how much time they actually worked and "ghost" employees on the books—employees who simply do not exist. Payroll fraud can prove quite costly to your business. The Houston Chronicle reports the average loss due to payroll fraud is $48,000.
3. Employee Benefits
As your firm continues to prosper, you may opt to begin offering a benefits package or seek alternatives to better the package you're providing to your employees. One of the highest company costs is employee turnover when you take onboarding, training, etc. into consideration, so retaining employees, especially quality ones, on your payroll is preferred. Secondly, offering an attractive benefits package can help attract new talent, too. According to SBA.Gov, employee benefits could be the deciding factor whether employees choose to work at your company. However, it's understood that you don't want to break the bank to do that.
4. 401(k)
Your company has successfully expanded with additional locations and employees, and you have long considered sponsoring a retirement savings program. The 401(k) plan is still the most popular retirement plan around. An Entrepreneur Magazine article points out common misconceptions small business employers have about 401(k), such as cost, administrative burden, and availability of plans for a small company size. 
5. Workers' Compensation
When you opened for business, there were just a handful of employees. Today, you have added additional locations, expanded the line of products offered, and have a company vehicle driven by employees. Maybe it is time to seriously consider adding workers' compensation insurance.
Workers compensation insurance provides payment of medical bills and some lost wages for employees injured on the job or have a job-related illness or disease. In some states, private employers are not required to carry workers compensation insurance.  Employers who are covered with workers compensation insurance are generally granted immunity from most employee lawsuits. For example, the Texas Department of Insurance (TDI) states that should a lawsuit occur, the employer's insurance will pay the attorney fees and other defense fees incurred.
The workers' compensation rate you pay is determined by a claims experience modifier. This is applied to each company's rate and determined by their claims experience performance in the industry. Therefore, the worse your company performs, the higher a modifier you have to apply. Subsequently, you end up paying a more expensive rate. 
6. Risk Management
Along with everyday operations of your company brings the risk of health and safety issues. As a business owner, you want to be proactive, plan in advance, and keep up with OSHA regulations. Both supervisors and employees must receive safety training.
The OSHA website provides a short summary of employer obligations, including: examining workplace conditions to make sure they conform to applicable OSHA standards, providing medical examinations and training when required by OSHA standards, and keeping records of work-related injuries and illnesses. As your business continues to grow, you should consider implementing a Safety Program if you do not have one currently in place.
Running your company presents enough challenges in itself without roadblocks, risks, and concerns associated with human resource management. All of the opportunities mentioned above could save you thousands of dollars when you let a reputable Professional Employer Organization (PEO) take that weight off your shoulders. Keep the focus on facing the trials that lay ahead to remain competitive, while saving time and gaining peace of mind.